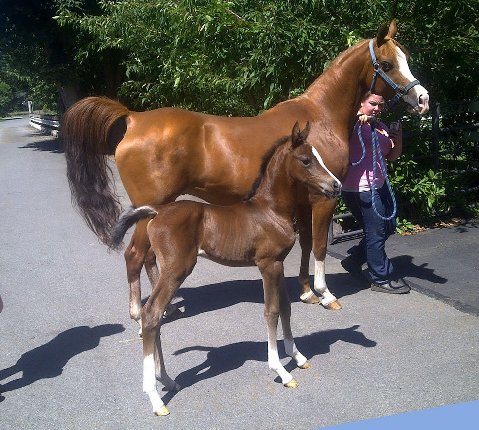 "This filly is a special one, one of your clients emailed about Pachi's son and I sent her a pic of the filly at her request. I will definitely consider breeding back again next year. It is kinda late this time. Kit I have seen a lot of babies, this one is amazing. Yesterday we took 8 women out to her pasture to see he and she just visited with each of them. She is not stuck up by her beauty at all. She definitely has his ears, small, and tippy".
Shelley
Shelly Gomavitz, Monroe Washington
"Many thanks to Kit Calafato of Spotz Farm for being so flexible and cooperative in the breeding of my Arabian mare SF Hey Nobility (Hey Hallelujah x Annobility, a MHR Nobility daughter) to The Knightís Reflection. We had only bred her once before and that was a live cover. We got her in foal with the first AI shipment! Iím excited to see the foal in the spring of 2014. Kit made it possible for the average horse person to breed to a great stallion at a reasonable price. Thanks Again, you were great to work with!
"
Marie Johnson, Sunset Farm Arabians New Mexico
"I want to thank Kit Calafato and Spotz Farm for holding the ĎWin a Free Breeding Feeí drawings!!! I was one of the very lucky winners. I had two mares in mind to breed and decided that whichever one came into heat first would be the lucky mare. When the vet came out to check the mares, one was in heat and ready to ovulate, so I contacted Kit about getting semen shipped. She bent over backwards to make sure that I got semen when I needed it. My vet is a reproduction specialist in my area and inseminates a lot of mares annually. He checked the semen and was quite impressed with the motility and longevity. I look forward to my 2013 The Knightís Reflection foal!! Thank you again for all of your help and working with me on such short notice!! "
"Just wanted to say thanks for your help over the last two years that I have bred to "The Knight's Reflection"....you have been great to work with and Reflection's semen quality has been consistently fantastic with exceptional motility and longevity as proven by easily getting my three mares settled last year....two on the first try!!! We are off to a great start again this year!! Thanks to you and "Reflection"!!!! "
"Kit Calafato owner of Spotz farm along with her husband Dick Calafato are what all breeders of horses should be. They are very generous with their time and knowledge. The Calafantoís are always willing to help and answer questions promptly when asked; and they cater to the small breeder the same, as they would top breeders in the industry. They love helping people that have the same passion for horses as they do. During this breeding season I had two mares that I bred to The Knights Reflection. The oldest, a 23-year-old maiden mare, got in foal with her first AI. My other mare didnít take until the third AI. Kit was very encouraging. She said to just give the mare time, as it had been a number of years since she had been bred. Thank you Kit. I canít wait to see my next generation of Kit Calafato bred horses. Spotz Farm makes it possible for the average person to own, train, and love great horses. Integrity speaks for it self and Spotz Farm exemplifies it."