"Breeding horses is like putting together pieces to a puzzle, placing the gene pool together into a lovely picture. Sometimes it works..... sometimes it doesn't. The breeder must know when to look for better pieces".
Kit Calafato
WGC Revival

owned by William Shatner
Chubasco

owned by Scripps Miramar
WGC Dr Zhivago

owned by Scripps Miramar
Quiver

owned by Don Deardorff
WGC Buck Rogers

owned by Scripps Miramar

Bi Mi Charm of the Shadows

owned by Ken & Debbie Waite

Hot August Nite

owned by Kingsmen Stable

Black Night On Broadway

owned by Georgia Knowlen

Hot Every Nite

owned by Charolotte Ivy

Cappuccino Royal

owned by Kharisma Farms
| | |
| --- | --- |
| What are some of the major concerns in breeding Pintos? | Breeding pintos is not always easy. We are restricted by DNA. For to pass on the color gene, you MUST have a pinto parent. Homozygous pintos have helped to create more opportunity for color, but, not always QUALITY. If we are to have better PIECES to our puzzle, sometime we have to look outside our Pinto gene pool. QUALITY is a noble goal for all breeders and not a "given" in the best of breeding programs. |
| Why was The Knights Reflection selected for Spotz Farm Pinto breeding program? | Spotz Farm desired to breed better pintos and found a young SOLID colt that fit the ticket. In the fall of 2005, we purchased a sweet young colt, The Knight's Reflection. He was very tall and refined with driving hocks, high headed and high tailed. He had the most beautiful head, ears, classic expression we had ever seen on an American Saddlebred. With all these wonderful traits....we just could not resist! |
| What are the hopes with adding The Knights Reflection to the Spotz Farm breeding program? | It is our hope to improve the QUALITY of the foals by creating tall, stretchy, pretty, movers that will market as yearlings due to their size and QUALITY. Spotz or no Spotz: Arabian, National Show Horses, Saddlebreds and Friesian/Sporthorse types can benefit from the "Look and Athleticism" of this young colt. Optimize your chances for success and consider The Knights Reflection for your breeding program. |
The History of the American Saddlebred began in the 1600's. Through selective breeding the ASB has become a very versatile, elegant yet powerful moving horse that we see today.


To learn more go to: http://www.american-saddlebred.com/asbhist.htm
Breeding Saddle Type Pintos By Kit Calafato
I have been breeding Saddle Type Pintos at Spotz Farm for some time.

They are exciting, fun and profitable. The gene pool is limited, so, there are challenges. If you want to breed a good Saddle Type Pinto, you must first take the "pinto spots off" and look at the conformation of the horse. Ask yourself, "Does this horse look like the saddle type breed standard? Is this horse built with an upright carriage?

Does this horse move with an exhilarating forward motion? Is this horse willing and does this horse possess courage?" The latter is a training discovery and not always apparent until the horse is put in the leather.
Beginning with the question of "breed Standard", let's look to the American Saddlebred horse as it is a major contributor to the Saddle Type look. Let's also hope that the breeder is knowledgeable in the terms of conformation as it relates to the function of the horse.

Stamped on every registration paper of an American Saddlebred horse is a picture of the breed standard. Examine carefully the conformation and look of this horse. Ask yourself, "Does my pinto Saddle Type look like this horse?" In order to function like a saddle type your horse will have to be built with an upright neck that comes high out of the withers into a flexible throatlatch that can comfortably carry a bridle.

Next, your horse will need a long, laid back shoulder that is boldly prominent and well defined. This shoulder will carry the front legs of the horse "upward and forward" and allow the horse to "wave his arms" smoothly and effortlessly.


(Always keep in mind that we should never ask a horse to perform a physical function he is not capable of doing. If a horse is not built right, it will be very hard for him to be an athlete and we want to produce athletes.)
A comparatively short back, long hip and powerful hindquarters will drive the animal forward and is the source of forward motion. Hocks that are set relatively low can drive up under the animal and transfer this powerful energy forward and upward.

Straight clean legs with good bone, along with good dense hooves will keep your horses sound.

Breed horses with proportion, balance and symmetry.
All of this conformation is great, but, what makes a champion is ambition and courage, so, let's examine the heart.
Courage and ambition are part of the disposition of the horse and this trait is definitely inheritable. Horses who rise to the challenges that we give them in the show arena are truly a marvel. I have seen in many instances a horse that does not have the best of conformation excel in the performance arena by ambition and courage. They seem to just figure out what we want and go for the gold. These horses possess great hearts and they just have a burning desire to perform.

I look for this trait very seriously in my breeding animals. What good is it to have perfect conformation and no game? How many times have we seen trainers struggling with animals trying to train them to do something they just don't want to do? Sometimes it is conformation that prevents them from being a success and sometime it is the lack of courage and ambition. Horses with correct conformation are not only beautiful, but also functional. A horse with ambition and courage can succeed. And now let's get back to those pinto spots.

When we breed for color, we have an additional challenge. Color patterns can be deceiving and distorting. Sometimes they can add to the "look" of good conformation and sometimes take away from it. A breeder must develop a good eye and not be "color blind to the pattern or the color.
It is very helpful to take a picture of the horse and simply color the horse solid and evaluate the conformation
By taking the pinto spots off, the attributes and faults of the horse are more easily seen. The breeder will not be distracted by the color and the pinto pattern.
Marketing horses is all part of the breeding business.

If you want to be successful, breed something that the buying public wants. Many breeder cling to their various breeding programs unable to make the improvements necessary to be competitive. It is either because they wish to stay within a certain bloodline, color, or just because it is easier. If a breeder is going to produce good pintos, they must "breed out" to the best producing horses. A breeder must choose champion horses or top futurity producing sires for at least one of their best mares. In this way, all of us can continue to bring in new pinto horses and improve the growing gene pool.
Analyze your breeding program and try to overcome genetic faults.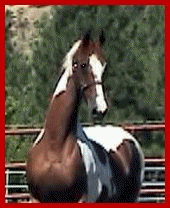 Make honest evaluation of your breeding horses or pay a professional for an evaluation. Select mares and stallions that will produce superior offspring and cull the ones who don't meet the standard.
Don't become "barn blind". Just because you own the horse, doesn't mean that it is the cat's meow.

When marketing your pinto horses, get good videos and pictures before offering them for sale. A prompt and complete response to inquiries will optimize the success of your sale. Be honest with your buyers and send them information that best represents the horse. Keep in touch with your buyers and exchange knowledge that will benefit the betterment of the breed.

In this way, you can build a network of good horse breeders and friends. The most rewarding part of the horse business will be the friends you make and information you will learn.
The breeding of saddle type pintos is challenging. Look for correct upright conformation that can drive forward with effortless motion.

Choose bloodlines of courage and ambition. Breed to the best horses and not just what is in your back yard. Prepare for your buyers and promote your farm and horses honestly. Learn all you can, breed better horses and make lifelong friends along the way.
Upcoming Events:
Missouri Breeders Challenge & Stallion Auction - The Knight's Reflection

UPHA American Royal National Championship
Additional Details & bidding
Wisconsin Saddlebred Futurity &Stallion Auction-The Knight's Reflection
Wisconsin
Additional details-bidding
2009 All American Cup Stallion Service Auction- The Knight's Reflection
Indiana
Bid Form
The BlueGrass Futurity Stallion Auction-The Knight's Reflection
Kentucky
Additional Details & bidding
Minnesota Saddlebred Association Limited Breeders Auction
Town & Country Club
St Paul, MN
Additional Details & Bidding
53rd Annual Scottsdale Arabian & Half Arabian Show
West World
Scottsdale, AZ
USEF Show-All Ratings
WCAHA Stallion Auction-The Knight's Reflection
Western Carolina
Bid form
Kentucky Spring Premier
Kentucky Horse Park
Lexington, KY
USEF Prize Program-Region 8
Cascade Pinto Silver Buckle Show
Tacoma Unit 1
Tacoma, WA
Mid Summer Classic Charity Horse Show
Evergreen Equestrian Park
Monroe, WA
USEF Show-All Ratings
Pinto World Championships
Region 4 Championships

Oregon State Fairgrounds
Salem, Oregon

Yakima Mid-Summer Hose Show

Central Washington Fairgrounds
Yakima, WA

USEF Prize Program-Region 2

Region 5 Championship
Evergreen Equestrian Park
Monroe, WA
Youth Nationals Arabian & Half Arabian Championships
Expo New Mexico
Albuguerque, NM
C-Fair Charity Horse Show
Evergreen Equestrian Park
Monroe, WA
USEF Prize Program-Region 2
Kentucky State Fair World's Championship Horse Show
KY Fair and Exposition Center
Louisville, KY

USEF-F Prize Program-Region 8
Canadian Arabian and Half Arabian Championships
IPSCO Place
Regina, Saskatchwean, Canada
Oregon State Fair Horse Show

Oregon State Fairgrounds
Salem, Oregon

NWSA Fall Classic & Futurity

Oregon State Fairgrounds
Salem, Oregon

Kentucky Fall Classic Horse Show
The Kentucky Horse Park
Lexington, KY
USEF-F Prize Program-Region 8
US National Arabian & Half Arabian Championships
Expo Square
Tulsa, OK
Pinto Congress and Futurity
Tulsa, OK